Coronavirus: Rishi Sunak to unveil financial aid for self-employed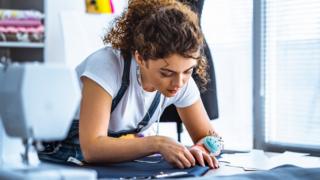 Self-employed workers facing financial difficulties as a result of coronavirus are set to be offered a package of support from the government.
Chancellor Rishi Sunak will unveil the measures later.
He set out plans for 80% wage subsidies for staff kept on by employers last week – and the PM has said he wants similar protection for freelancers.
However, Boris Johnson added he could not promise the UK would beat the virus "without any kind of hardship at all".
The total number of people in the UK to die with Covid-19, the disease caused by coronavirus, has reached 465.
Mr Sunak said last week that the government would cover wages of up to £2,500 a month for staff being kept on by their employer, as part of "unprecedented" measures to prevent workers being laid off.
The chancellor later said drawing up plans to help self-employed people had proved "incredibly complicated".
Dr Adam Marshall, director general of the British Chambers of Commerce, said: "For many people that have seen their businesses disappear in the blink of an eye, things like statutory sick pay or universal credit just isn't enough.
"It doesn't need to be perfect – we just need a system in place," he told the BBC's Today programme.
John Healey, a self-employed driving instructor from Lancashire, said: "We don't need a lot, we just need something.
"But by doing nothing, we just go to the wall, basically," he told the Today programme.
BBC Newsnight's political editor Nick Watt said all the indications from talking to ministers and Conservative MPs were that the chancellor would match the 80% salary support given to PAYE employees.
He said one minister said the reason why it had taken so long was because it was fiendishly complicated but "when this chancellor acts, he acts big".
BBC business editor Simon Jack said calculating a support wage for the self-employed was so difficult because their income could be lumpy, irregular and intermittent.
Government sources said they had struggled to find a way to avoid paying people who do not need help.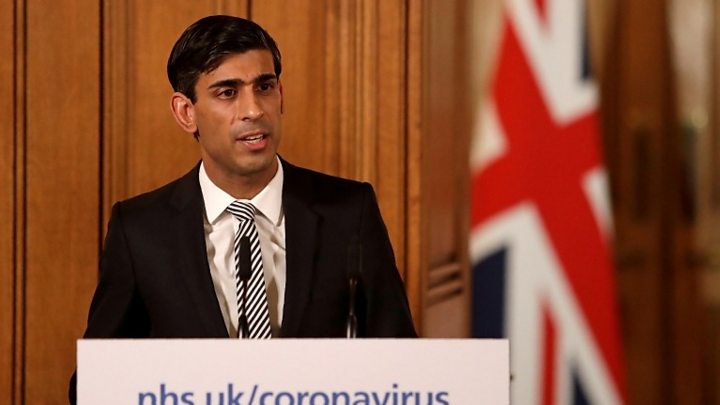 As Parliament shut down until 21 April at the earliest due to the escalating pandemic, Mr Johnson told MPs: "We will do whatever we can to support the self-employed, just as we are putting our arms around every single employed person in this country."
He said there were "particular difficulties" for freelancers who are not on Pay As You Earn (PAYE) schemes, but that he wanted to achieve "parity of support" across the workforce.
In the UK, more than 9,500 people have tested positive for the virus – although the actual number of cases is likely to be far higher.
The peak of demand for intensive care is expected to come in two to three weeks.
Chris Hopson of NHS Providers, which represents foundation trusts in England, said London hospital bosses were telling him they were already struggling with the high numbers of critically ill patients, likening the situation to a "continuous tsunami".
Their job was being complicated by staff sickness rates of up to 50% in some hospitals and a shortage of ventilators, he told the Today programme.
Prof Neil Ferguson, a key government adviser on the country's response, said he expected "a very difficult few weeks particularly in the hotspots", including London.
However, he said while the health service would be "particularly stressed, it won't break".
A 21-year-old woman from High Wycombe, Buckinghamshire, who died with the virus last week, had no underlying health conditions, her family said.
One of the latest people to be diagnosed is Prince Charles. The 71-year-old is self-isolating at Balmoral with the Duchess of Cornwall, 72, who tested negative.
Buckingham Palace said the Queen last saw her son, the heir to the throne, on 12 March, but was "in good health".
Meanwhile the British Medical Association (BMA) has warned that doctors and patients will die without adequate protective equipment across the NHS.
The BMA said doctors were risking their lives due to a lack of personal protective equipment (PPE) – and said many health workers could go off sick unless urgent action is taken.
Health Minister Edward Argar said 24 million pairs of protective gloves and 13 million protective face masks had been delivered in "the last few days", while an extra 8,000 ventilators were expected to be available within two weeks.
In other developments:
Banks have been criticised for insisting on personal guarantees to issue government-backed emergency loans to business owners
A decision about whether or not this year's Wimbledon would go ahead as planned will be made next week
Probation officers in England and Wales are scaling back supervision of criminals by asking them to come to their windows for monitoring rather than meeting face to face
All NHS and social care staff will be given free car parking, the Department of Health says
In Cambridgeshire, an 84-year-old man, reportedly with underlying health issues, becomes the first British prisoner with coronavirus to die
Anxiety UK is extending its helpline opening hours after it estimated the number of calls to its helpline have risen by between 30 and 35% over the last fortnight. To reduce coronavirus-related anxiety the charity recommends people talk about their concerns, limit the time they spend following the latest developments, and find time to do things that distract them
Ministers have said free car parking will be provided to NHS staff working in hospitals in England
Dyson has had hundreds of engineers working around the clock to make 10,000 ventilators, after the government placed an order
In the US, the Senate has passed a $2tn (£1.7tn) coronavirus disaster aid bill that is the largest economic stimulus in US history
There are now more than 470,000 recorded infections worldwide. The number of global deaths is more than 21,270 while more than 114,000 people have recovered
---
Are you self-employed? Share your experiences by emailing haveyoursay@bbc.co.uk.
Please include a contact number if you are willing to speak to a BBC journalist. You can also contact us in the following ways: